Helping Rotorua Students Get Back On Track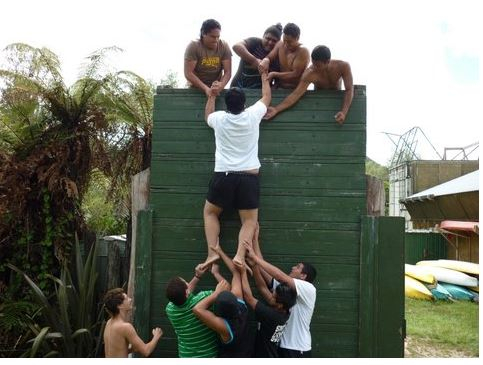 Everyone needs a second chance in life – and Te Arawa Lakes Trust in Rotorua are providing that opportunity for dozens of students every year who have dropped out of secondary school.
Heddell Raerino, who manages the Trust's Employment and Training Unit, says students aged 16 to 19 are given the chance to complete two different NCEA level 1 qualifications that will then help them progress onto further training and employment.
"We see ourselves as a place where students can mature," Heddell says. "Our main focus is picking up those students that have fallen through the cracks of mainstream education and putting them back onto a pathway to succeed. They've just had a bit of a detour on their way to getting where they want to be."
Valuable Skills On Offer
The Trust's Employment and Training Unit offers a National Certificate in Employment Skills which is a 20 week course covering topics such creating a CV, health and safety, interview skills, time management, keyboarding skills, as well as numeracy and literacy.
Heddell says about 70 per cent of students also complete the National Certificate in Automotive Skills which is a 16 week course. There's an automotive workshop and classrooms on site at the Employment and Training Unit's base in Ngapuna, Rotorua, and two fulltime tutors oversee the coursework.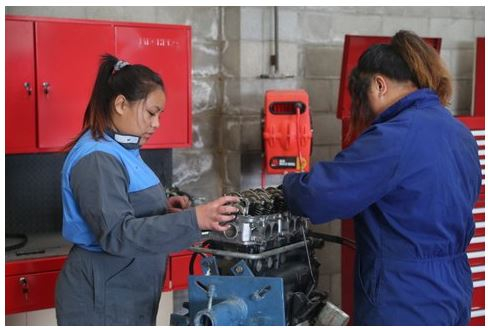 Krystal & Atamarie learning automotive skills at Te Arawa Lakes Trust
"Many of our students go on to do either NCEA level 2 or 3, or courses at places like polytech. Some go into the armed services as well and we work with the recruiting office here in Rotorua to help them gain entry."
Numeracy and Literacy Support
This year BayTrust has given $21,000 to the Te Arawa Lakes Trust to help support the students' needs. Extra pastoral care has been provided as a result, and another person will soon be employed to help focus specifically on literacy and numeracy skills.
"The tutors don't have enough time to dedicate to those students who have high literacy and numeracy needs so this funding will help immensely," Heddell explains.
"It's heartbreaking for us when we see a student who wants to make a difference in their lives by doing these courses but we can't take them because they wouldn't be able to do the work. This money will allow us to take more of those students on.
"We're really thankful to BayTrust for helping us out and providing that assistance."
---
Remembering The Bay's ANZAC Heroes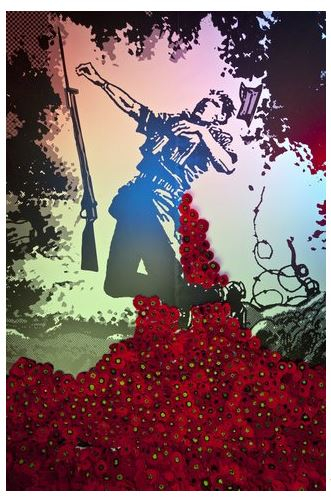 A poignant exhibition portraying the stories of Tauranga's WW1 soldiers and their families was seen by as many as 13,000 people at the Classic Flyers museum earlier this year.
World War I exhibition at Classic Flyers. Bay of Plenty Times Photograph by Andrew Warner.
The four week exhibition, entitled WWI From Tauranga to the Trenches opened on Anzac Day and ran until May 23rd.
Michelle Whitmore from Metro Marketing helped curate and design the exhibition along with her colleague, Andy Galaxy. She says the purpose was to tell the stories of Tauranga's soldiers focusing on the diversity of experience, and also to reflect on the experiences of those at home, particularly the women and children.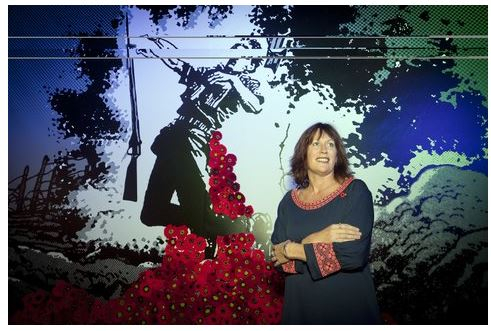 World War I exhibition at Classic Flyers. Michelle Whitmore. Bay of Plenty Times Photograph by Andrew Warner.
"There is a book of the same name (From Tauranga to the Trenches) which has been written and published by Fiona Kean from the Tauranga Heritage Collection. Fiona was involved with our project team from start to finish, and she acted as our mentor and she was the guardian/oracle in terms of historical accuracy."
Marty Cantlon from Marty's Signs was the other core team member involved, taking care of the spatial planning, layout and logistics, plus all of the canvas production.
Informative Display
Michelle says the exhibition was broken down into several distinct phases including a timeline and context; population facts and information; a focus on Gallipoli; individual soldier experiences; reflections from those at home (looking at things like fundraising); the role of the Bay of Plenty Times as a communication hub; and the experience of coming home for the soldiers (and the turmoil they lived with afterwards).
"And then we looked at how the city has remembered those who fought and those who fell such as the establishment of the RSA, the peace celebrations, the cairn at the top of Mauao, and the memorial gates at The Domain," Michelle explains.
Overall the exhibition was deemed to be a wonderful success. "We estimate that 12,000 to 13,000 people visited in the four week period it was open. Most schools chose to include an exhibition visit into their studies, plus we had a steady stream of people over all weekdays and weekends, particularly Anzac Weekend."
World War I exhibition at Classic Flyers. Bay of Plenty Times Photograph by Andrew Warner.
Local visitors invited to sign a guest book made comments such as "gave me goosebumps", "a great remembrance", and "signed with tears", showing just how moving the display was.
Local Support
The $100,000 exhibition was successfully staged by the Bay of Plenty Classics Aircraft Trust thanks to anchor funding from TECT and contributions of $5000 from eight other organisations including BayTrust. NZME also offered advertising across both their radio and newspaper networks.
"We couldn't have achieved the quality of the exhibition without these funders, so we are exceedingly grateful to every one of them."
World War I exhibition at Classic Flyers. Bay of Plenty Times Photograph by Andrew Warner.
---
Helping Create Community Spirit and New Friendships In Papamoa East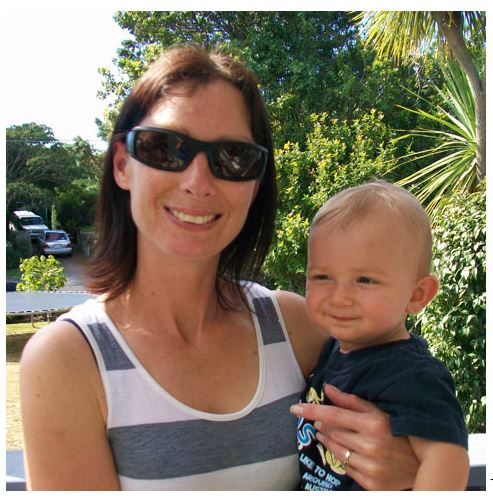 Teresa Finch moved to Papamoa East from Thames just over a year ago and, like so many new residents to the area, felt very alone.
"I knew nobody. I needed somewhere to go just to meet other mums and mingle and be a little bit social and find somewhere for my 2 year-old son, Justin, to play."
Teresa Finch and her son, Justin, attend Beachaven's weekly playgroup at Papamoa East
That 'somewhere' turned out to be Beachaven Family Services down the far end of Papamoa Beach Rd. A variety of social services are on offer to locals including a twice weekly playgroup for young mothers and their babies or pre-schoolers.
"It's been a Godsend, especially when you don't have close friends around," Teresa explains. "Beachaven is very comfortable and casual. It's just nice to have other mums to talk to and other kids for Justin to play with."
The 39 year-old now spends each Tuesday morning at Beachaven doing music or art and craft activities with her son before enjoying a hot drink and watching him ride three wheeler bikes and play in the sandpit.
"I've gotten to know the other mums quite well and it's good to bounce ideas off each other about what you kids are doing. That support is really important to have."
Overcoming Isolation
Beachaven Family Services manager Gale Gordon says providing that support network is what the organisation is all about.
"Most people are new to the area and don't have established friends and family around for company and support," she says. "Isolation is a big issue. We're 7km from the plaza and most people don't know anyone in the community. We are helping people to form those friendships and build a new community for themselves."
In addition to the mothers' group, Beachaven also runs a weekly walking group for all ages, and a senior's session where people play the popular game Rummikub.
"It gets people out of their houses, keeps them active and, for the older ones, Rummikub keeps their brains going. People absolutely love it and they really do have a laugh together."
Gale says most people would be stunned by how much housing there now is in Papamoa East. "We have 10,000 cars going in and out of here every day. It's a much bigger community than people realise."
She describes Beachaven as the 'nana in the community' who brings people together and offers a mixture of fun, friendship, advice and support.
"When I was a young mum you got to know your neighbours really easily and you connected with them. That doesn't happen as much anymore. So we offer a place where people can drop in and meet others and find that support they need."
Keeping The Doors Open
This year BayTrust granted Beachaven Family Services $15,000 towards their 2015 operating costs.
Gale says it costs $100,000 to keep their core services operating and BayTrust's financial support was "huge".
"We have all the costs associated with running a three bedroom house but with staff working in it as well. We need to find money for rent, electricity, staff wages, plus things like coffee, tea and biscuits for everyone who comes to visit us during the week."
Beachaven is overseen by Waiapu Anglican Social Services Trust but is responsible for keeping itself afloat financially. Gale says money from the nearby Dovecote Opportunity Shop and community funders like BayTrust ensures the services remain open and viable.
"It's all about bringing the community together and Beachaven is a lovely place to be. I love my job."
---
Creating Local Jobs To Boost The Eastern Bay's Prosperity
Creating permanent jobs in the Eastern Bay of Plenty for local residents is no easy task.
Agriculture, horticulture and forestry are the dominant industries but technology and innovation is helping these sectors become more productive while requiring less physical labour.
The Eastern Bay of Plenty Regional Economic Development Trust (which is known as Toi-EDA), is working hard to overcome this challenge and create long-term employment opportunities in Kawerau, Opotiki and Whakatane.
Trust Chairman John Galbraith says the Eastern Bay is "unfortunately one of the most deprived areas in the country across a range of socio-economic factors." But the region has great potential given its location, climate, strong Maori asset base and availability of land.
Toi-EDA chairman John Galbraith
Aquaculture, tourism and kiwifruit are regarded as "job rich" industries which Toi-EDA is focusing on.
The Trust works closely with the Bay of Plenty's wider economic development agency (Bay of Connections) to investigate and implement strategies that will boost long-term job prospects across a range of industries.
John says the ongoing development of a mussel farm off the coast of Opotiki is forecast to generate over 300 jobs by the time it's fully operational in 2025. And the kiwifruit industry's future also looks bright – with rapid expansion predicted over the next decade.
Combining Workforces
With that in mind, Toi-EDA is leading a workforce development project to see what opportunities can be maximized for local residents across these two industries.
"Kiwifruit employs about 1800 people in the Eastern Bay during peak harvest time but only 100 or so people fulltime during the year," John explains. "That's very challenging for developing a good workforce and the industry relies quite heavily on immigrant labour and itinerant backpackers.
Toi-EDA's workforce planning project will look to combine the kiwifruit and aquaculture industry's workforces
"Aquaculture has a different seasonal requirement to kiwifruit and there's an opportunity to bring those two together so we have a more permanent workforce across both industries because there are similarities."
Toi-EDA's workforce planning project will help more local residents secure work in the aquaculture industry
Maintenance staff, forklift operators, process operators and management are required for both industries and many common skills are involved. "There's also some amount of complementary seasonality. As the mussel season tapers off, that's about the time the kiwifruit harvest starts."
Groundwork Being Laid
Initial research into both industries has already been carried out. Now, Toi-EDA has engaged community consultant Barbara MacLennan, who has previously managed the aquaculture workforce planning project, to carry out 'phase two'. She will assemble and combine the current information to see what skills, people and training is required, and what timing and seasonality is involved.
"The idea is to then match the training requirements against the current providers to see what opportunities or gaps there are," John explains.
An overall workforce development plan will be produced and key stakeholders (such as aquaculture and kiwifruit employers, iwi, community organisations and training providers) will be consulted. "We're hoping that will lead on to an agreed structure to implement it."
Financial Support
Phase two is expected to take up to 18 months to complete and cost approximately $80,000. BayTrust will contribute $30,000 towards that amount, and the rest will be sought from Government departments, private companies and Toi-EDA itself.
"Without BayTrust we would have struggled to get this project off the ground," John says. "Now with this cornerstone funding from BayTrust, we're confident the rest will fall into place quite quickly."
One key aspect of the workforce development plan will be to outline 'staircase' opportunities for young students to enter the two industries and progress their career.
"The more we can connect with secondary school students and show them there are valid, long-term employment opportunities in these industries, the more likely we are to attract them into the necessary training along the way."
Keeping Jobs Local
John says if nothing was done, both the aquaculture and kiwifruit industries would still function but local residents were likely to miss out.
"We're trying to maximise the opportunity for local people regarding employment and development to help promote the wealth and wellbeing of our whole district."
---
Mural And Arts Festival A Major Drawcard For Katikati
JUNE 2015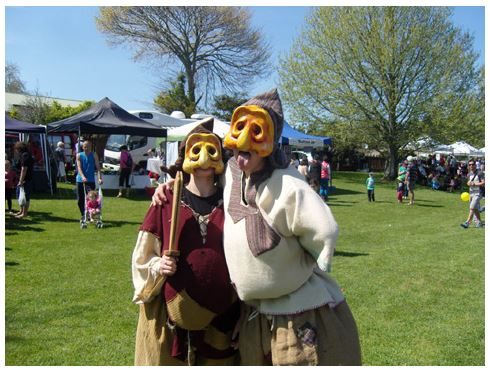 Katikati is renowned as New Zealand's mural town and organisers of this year's New Zealand Mural Contest and Arts Festival are hoping to attract thousands of visitors from across the upper North Island.
Katikati's NZ Mural Contest and Arts Festival
Festival organiser Jacqui Knight, from Katch Katikati, says the biennial event has traditionally been run on a small budget but this year twice as much will be spent to help make the occasion bigger and better than ever before.
"This year's festival marks 25 years since the first outdoor mural was painted in Katikati," Jacqui says.
There are now almost 60 artworks on permanent display around town, including murals, sculptures, carvings, mosaics and tapestries.
Bigger Reach
Organisers are aiming to attract as many people as possible to the 2015 festival (which runs from 29th September until 4th October). The highly-anticipated mural competition will be a highlight, and photo, sculpture and song-writing contests will also be held.
"We're really trying to make a big effort and push the promotion of this year's festival out to a two hour radius to encourage more people to come into the district," Jacqui says.
"They can make it a day trip or spend the night. We have a big open air market on the Saturday, lots of street performers, activities for kids, exhibitions and displays throughout town. The atmosphere is really amazing."
Artistic creations underway at previous arts festivals in Katikati
Spreading The Word
BayTrust has given Katikati's Mural Contest and Arts Festival $10,000 which will be used to cover advertising costs and promote the event.
Jacqui says she was "absolutely thrilled" to receive news of the grant which will help pay for programme booklets, mail drops, flyers, website and social media promotion, as well as newspaper and radio advertising.
"It has made a huge difference to be able to make a definite plan. When you get something like $10,000 it gives you a lot of security and confidence that you can plan and move forward."
Painting The Town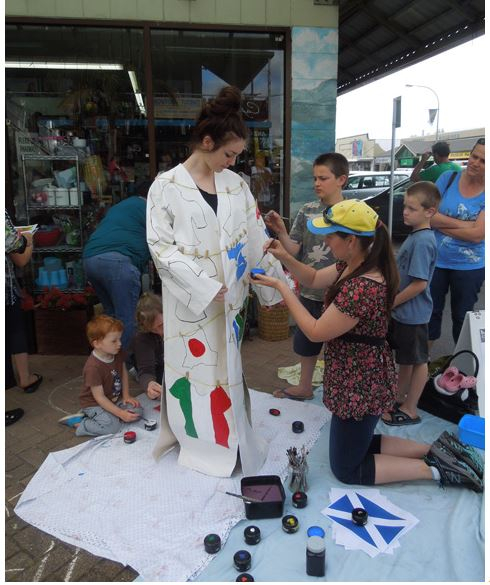 Katikati Open-Air Art president Steve Graveson says the festival is now considered a major forum for outdoor art in New Zealand and the mural content is always hugely popular.
"We've had some really high caliber mural artists from around New Zealand and Australia compete in the past and their artwork is really amazing."
This year's theme is 'Nga Taonga o Aotearoa – The Natural Treasures of New Zealand'. From pre-entries received, six artists will be chosen to paint their murals at different locations around town during the festival week.
Each entry will be painted onto a 1.2 x 2.4m piece of plywood. The winning artist will receive $5000 and be invited to re-create their mural on the side of a building in Jocelyn St. The remaining entries will be put up for sale.
"This year's winning mural will replace one of our oldest murals called Primal Aotearoa which was painted in 1996 and has badly faded," Steve explains. "We thought this was a good opportunity to replace it and the original artist, Bodhi Vincent, is keen to enter this year's contest again."
This year's winning mural will replace the 'Primal Aotearoa' mural on the side of this Katikati building
Steve is looking forward to seeing the different artistic interpretations of this year's theme and says people are encouraged to come and watch the murals take shape.
"It's very entertaining. You get to see the painting as it develops which is a process you don't often get to see. The artists are not only expected to paint in public but also intermingle and talk with the crowd as they work, so it's well worth coming to watch."
A community art project – which everyone will be welcome to participate in – will also be held during the festival, and details of this year's event are currently being finalised.
"It's really about encouraging art in the community and we want people to see new things. We're looking at doing a few different things that Katikati hasn't seen before. It's a week-long celebration that people are really looking forward to!"
---
Helping Tauranga's Youth 'Get Smart' About Drugs And Alcohol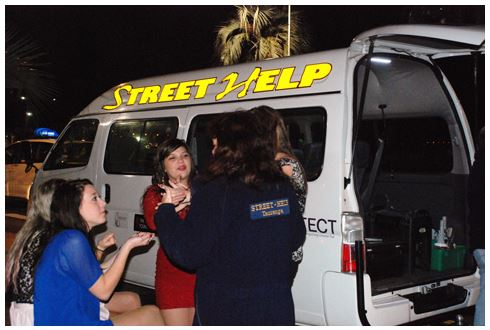 After 24 years of helping intoxicated young people on the streets of Tauranga, Get Smart volunteers have seen it all.
Every Friday and Saturday night between 10pm and 3am they can be found driving their Street Help van around the Western Bay of Plenty. They happily dish out free hot pies and warm milos to dozens of youngsters while talking to them about drug and alcohol issues.
Get Smart's Street Help van helps look after people who have had too much alcohol.
"We're putting food in their stomach which slows down the metabolism of alcohol but we're always looking out for people at risk," explains Get Smart's manager, Stuart Caldwell.
Get Smart manager Stuart Caldwell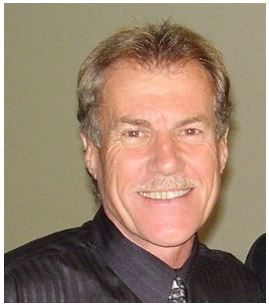 "Very often we take young people home or to a safe location. Or sometimes to hospital if they're too inebriated to hold a conversation."
Stuart describes Street Help as a non-judgmental presence. "We've got a very good rapport with young people in town. It's a good opportunity just to talk to them and ask them about their life issues."
Sometimes those conversations result in teenagers seeking help from Get Smart's counselling services, while other times they prevent a dangerous situation from occurring.
"One time it took our volunteers 10 minutes to get a young girl's name, and another 10 minutes to get her address. During that time three males, all independent of one another, came up and offered to take care of her. Who knows where she would have ended up had our volunteers not been there?"
Financial Support
Street Help is just one of Get Smart's initiatives to tackle substance abuse and addiction in our region.
The faith-based agency has been running in Tauranga since 1991 and provides free drug and alcohol counselling for 600 people a year aged 13-24 at the 17th Ave Historic Village, plus a range of other support programmes.
BayTrust has had a long association with Get Smart and has provided $20,000 this year towards the charitable trust's operational costs.
"The role of BayTrust over a number years in supporting our operational costs has been enormous," Caldwell says "We are so grateful for their involvement in helping us identify where we're making a difference and how we can build capacity in the various services that we offer."
Get Smart has five core staff members, seven part-time contractors, plus 30-odd volunteers.
"We have a real issue with alcohol in our community," Caldwell says. "Many people don't realise but we have had a huge number of inebriated young people, especially young females, at risk just from excess alcohol consumption."
Back To School
Get Smart regularly speaks with high school students and at training institutions around the region to get their message across. Caldwell will typically deliver two separate talks – discussing goal setting first, followed by drugs and alcohol.
"Research shows just disseminating information about drugs and alcohol has little to no value. However, if you climb into their personal lives and talk about what they want to do and achieve in future, then position drugs and alcohol as a possible saboteur, then they see those subsequent messages in a totally different light."
Starting Young
Get Smart also run a primary school-age programme involving students from three low decile schools. "We are targeting at risk 8-10 year-old girls who have been chosen by their S.W.I.S worker (Social Worker In Schools) and their deputy or head principal."
The 8 week course covers subjects like respect, attitude and powerful thinking, anti-bullying, identifying emotions, self-worth and healthy relationships.
"The feedback has been enormous. We include a whanau hui at the end and that buy-in is really important. Our aim is to help these girls build their life skills and self-esteem."
Making A Difference
Caldwell says it's hard to quantify the impact and exact results of the work Get Smart does. But he is confident the message is getting through.
"I have young people come up to me all the time and say 'thank you for what you said'. That gives me the impression that some of it is sticking and we are helping prevent further alcohol-related harm in our community."
---
Project Tongariro: Helping Look After Our Land For 30 Years
28 APRIL 2015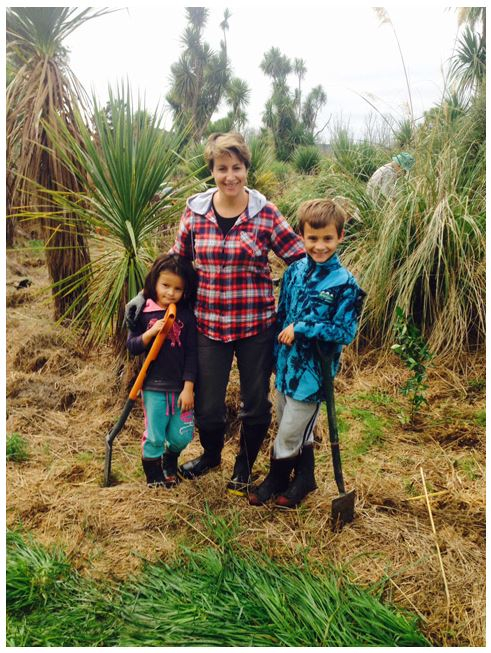 As the head of a volunteer-based conservation society, Kiri Te Wano is used to making a little go a long way.
The Tongariro Natural History Society, who go by the name 'Project Tongariro', rely on a budget of just $65,000 a year to operate. But they manage to turn it into $300,000 to $400,500 worth of conservation outcomes each year.
"We have a small group of highly active and enthusiastic volunteers who live locally and participate frequently," she says. "Last year we managed about 5000 volunteer hours, which equates to about $87,000 of man hours."
That effort is all the more impressive considering the Tongariro District's small population. "One of the things we do to counter this is to offer a varied list of ways to volunteer – from social events such as marshalling, to tree planting days or undertaking predator control."
Staying On Track
Kiri is one of two part-time paid employees. This year BayTrust has approved a $25,000 grant towards Project Tongariro's operating costs which will help fund Kiri's position for the rest of 2015.
"It's really hard to find funding that's not tagged to a 'doing' project like planting trees. To be able to put money towards overheads or fund a position such as my own is difficult, so we're really grateful to BayTrust."
Kiri says the grant would take the pressure off and allow her to focus her energy on the job at hand. "Lots of organisations have fantastic volunteer support but you need a paid person to be 'the glue' – to keep everything ticking over, to have systems in place, to record everything, and to help build those relationships."
Having grown up in Taupo herself, the mother-of-two gets great personal satisfaction from her work, giving back to her environment and community.
Project Tongariro's Conservation Coordinator, Kiri Te Wano, and her children Lenni, 5, and Maz, 8.
Paying Tribute
The Tongariro Natural History Society is a living memorial to former Land & Survey staff who died in a helicopter crash on Mt Ruapehu 30 years ago.
Keith Blumhardt, Bill Cooper, Derek White and Marie Williams, along with pilot Doug McKenzie, were killed on 9 December 1982 while flying at night near Turoa skifield.
The society was formed in their honour in 1984 to promote a wider knowledge and appreciation of the unique natural heritage, historic, educational and recreational values of Tongariro National Park and the surrounding environment.
Helping Hand
The semi-professional conversation organisation now works in partnership with the Department of Conservation and carries out a number of long-term projects around the district.
A new urban restoration effort called 'Greening Taupo' was launched in 2014 and involves local school children.
"It's about putting kids in charge and essentially doing restoration work around different geothermal areas. They'll carry out weed control and kill things like broom around sites close to their schools. Then they'll do restorative planting which will hopefully stop erosion from occurring in future."
Another major biodiversity project is looking after the Te Matapuna wetland which stretches along SH1 between Taupo and Turangi, and is the largest wetland of its type in the North Island – covering an enormous 1500ha.
Removing invasive willows, re-planting the Waimarino and Waiotaka riverbanks with native species such as ribbonwood and kahikatea, and predator control are the main focus areas, and work has been on-going for the past 11 years.
"Willow is the main problem but the wetlands themselves are quite healthy. We find once we've done the willow control work, they bounce back pretty quickly," Kiri says.
Project Tongariro's impressive record is largely thanks to the commitment of its 400 members and 250 supporters who contribute their time, money and enthusiasm.
"We're a great partner of DoC and it's difficult for them to manage the whole conservation estate by themselves. So we're proud to have been able to help them do that for the last 30 years."
---
Ensuring There Are Always Enough Fish In The Sea
Kimberley Maxwell grew up fishing for kahawai with her family at the mouth of the Mōtū River in the Eastern Bay of Plenty.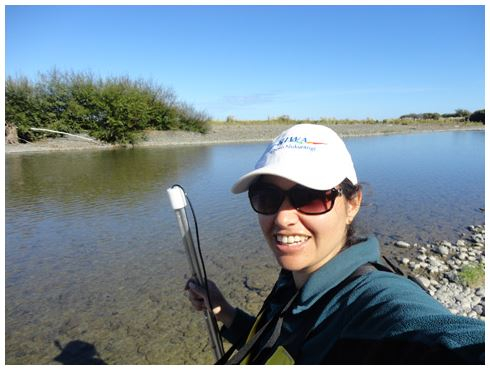 Kimberley Maxwell at the mouth of the Motu River
Now, with the support of the inaugural Bruce Cronin BayTrust scholarship, she's working hard to preserve that experience for future generations of New Zealanders.
"Fishing was a big part of my childhood. For the local community, the kahawai is part of their identity. It's just as important as the river that runs through their land or the mountain they're affiliated to. It's what they're known for.
"With the current legislation over-fishing could happen so I'd like to help develop a management regime that would prevent that from occurring."
Holistic Approach To Fisheries
Kimberley is half way through completing her PhD in Marine Biology at Victoria University. Her thesis examines how the Bay of Plenty kahawai fishery can be managed using a big picture "ecosystems management" approach.
One of her aims is to investigate why kahawai are attracted to the Mōtū River mouth. Kimberley has several hypotheses – they could be looking to spawn, removing parasites, chasing prey or avoiding predators themselves.
Kimberley Maxwell examines a kahawai
In addition, she is listening to local views on the significance of the kahawai and how local lore and customs strive to achieve the sustainability of this resource. Together, the information will underpin a new management model which she will present to the Ministry for Primary Industries who are closely following her research.
"Since the period of intense commercial fishing in the late 1970s some Māori of the Eastern Bay of Plenty have continued to express concern over the status of the kahawai stock, which has not been addressed. This research is an attempt to address this concern," she says.
At present, recreational fishing regulations allow a substantial catch of 20 mixed fish (including kahawai) per person, per day. Kahawai are also caught commercially and sold primarily as bait, pet food or canned fish as well as fresh and smoked.
"With our increasing population size and demand for affordable protein sources, it is important that the allocation accurately reflects what is being caught," Kimberley says.
Field Trips Underway
To find answers to her questions, Kimberley spends her summer months at the Mōtū River mouth, 40km east of Ōpōtiki, interviewing the locals and examining the fish caught there.
Kimberley Maxwell is studying the Kahawai fishery in the Eastern Bay of Plenty
"Fishers have been really helpful, letting me examine and measure their kahawai. I'm looking at their stomachs to see what they're eating and their gills to see if they have any parasites. Commercial fishers are also providing samples so I can compare those caught at sea with those at the river to establish if there are any differences."
The $5000 Bruce Cronin scholarship will help Kimberley fund these trips north from Wellington, and allow her to pay her research assistants a small amount to acknowledge their efforts.
Local Recognition and Support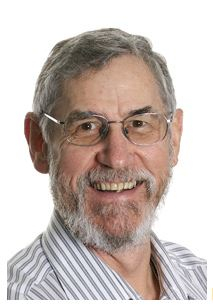 Bruce Cronin
Kimberley is the first recipient of BayTrust's new scholarship – named after long-time Trust Manager Bruce Cronin in recognition of his service to the people of the Bay of Plenty.
"I'm so grateful to the BayTrust and thankful for this scholarship," Kimberley says. "To know that it's especially for research that benefits the Bay is really cool."
BayTrust will award the scholarship once a year to support a masters or doctoral student carrying out research in mathematics, science or information technology that will benefit the region. The student must have ties to the geographical area that BayTrust covers.
Bruce Cronin, who served as BayTrust's Manager from 1997 until 2014, says he is humbled by BayTrust's establishment of the scholarship fund in his name and the Trust's support for his ideals of providing meaningful educational assistance to a promising scientist based entirely on his or her merit.
"I congratulate Kimberley on her success in achieving this inaugural Bruce Cronin BayTrust scholarship," he said. "There is absolutely no doubt that the Bay, the country and the whole planet can benefit enormously from enthusiastic, capable scientists such as Kimberley. I will follow her progress with huge interest!"
Future Plans
Kimberley aims to complete her Doctorate by September 2016. From there, her ultimate dream is to see a marine biology research centre established in the Eastern Bay of Plenty.
"With strong fisheries and aquaculture interests in this area it makes sense to have the region's research conducted locally to foster relationships between the scientists and the communities we serve."
---
Keeping All Boaties Safe On The Water At Waihi Beach
13 APRIL 2015
Knowing exactly where boats are heading when they launch from Waihi Beach or nearby boat ramps can make all the difference in a search and rescue situation.
That's why Waihi Beach Volunteer Coastguard are keen to install new Automatic Trip Reporting equipment in their radio communications room, and are encouraging people to register an official call sign for their boat.
Treasurer Don Young says the new technology will enable more accurate and expansive trip reporting every time people head out on the water.
"It will allow us to type in their call sign and all their info will automatically come up – where they normally leave from, their car and trailer registration numbers, who their next of kin are, where they usually go.
"We're very keen to install it. It will relieve the stress when we are really concerned about an overdue vessel. We'll have all the information about them already at our fingertips. It's almost a quantum leap in regards to data gathering."
Don says Coastguard currently has to write such details down every time a boat radios in, and half of all boaties don't bother making contact to report their trip at all.
New Funding Available
Now, thanks to a $20,280 donation from BayTrust, installing such equipment is one step closer.
In addition to Automatic Trip Reporting, Waihi Beach Coastguard committee may also use some of the funding for lifejackets, uniforms and training for 10 new volunteer crew members.
The organisation's operational costs exceed $66,000 per year and just 50 per cent is covered by annual membership subscriptions. "The rest we must find ourselves," Don explains. "We can spend up to $1500 a month on fuel alone."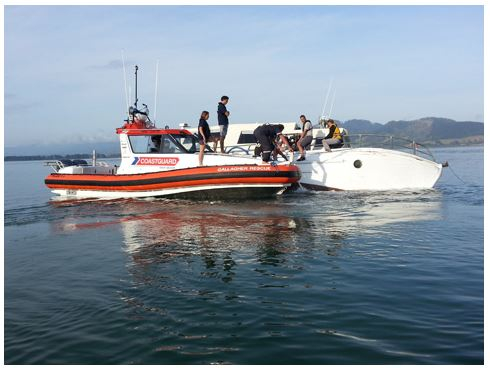 Saving Lives At Sea
Waihi Beach is an ever-popular place for boaties to set out for a day's fishing, waterskiing or for a picnic on Matakana Island.
Last summer (December-February 2015) the local Coastguard answered 3974 radio calls and had 21 calls for help from boaties in trouble involving 34 people "who would have been seriously inconvenienced or, potentially much worse, had we not been able to offer Coastguard assistance," Don says.
The bar at Bowentown can be "treacherous" in certain conditions. The proper technique and extreme vigilance is always required and vessels often get into trouble trying to cross it.
"Even a simple trip over the bar can turn very nasty if something goes wrong. It can be very frightening."
The local Coastguard, established 25 years ago, has two rescue vessels and aims to always have a highly-trained crew on stand-by. The communications room, which is central to all search operations, is manned at least eight hours a day, every day of the year.
"We have no paid employees here. We have 49 active volunteers helping to keep our community safe on the water. We are always keen for more men and women to join us and help us in our mission of 'saving lives at sea'.
Becoming A Member
Joining Waihi Beach Volunteer Coastguard costs boaties just $75 a year – money well spent considering it costs $175 for a single tow if their motor dies (members get towed for free).
Don says registering a call sign with Coastguard Boating Education Services (www.boatingeducation.org.nz) costs $45 and is an excellent way to help them ensure people remain safe out on the water.
"Even if people are not Coastguard members, we want to know where they so we can help them in their hour of need. That's our job."
---
Helping Taupo Organisations Work Smarter, Together
9 MARCH 2015
When people work together, they usually achieve better results than an individual acting alone.
The same is true of community organisations and international research has shown collaboration can be a powerful tool.
That's why BayTrust is supporting the Taupo Council of Social Services (TCOSS) in their efforts to bring local groups together.
The umbrella organisation, formed in 1993, aims to bridge the gap between different agencies tackling social issues like literacy, family violence, budgeting, drug and alcohol addiction, youth employment, and vulnerable children, as well as groups supporting those with health issues such as Alzheimer's, diabetes and dyslexia.
TCOSS co-ordinator Andrew Lilburn hosts monthly networking meetings between these groups and maintains a local directory of social services for the area.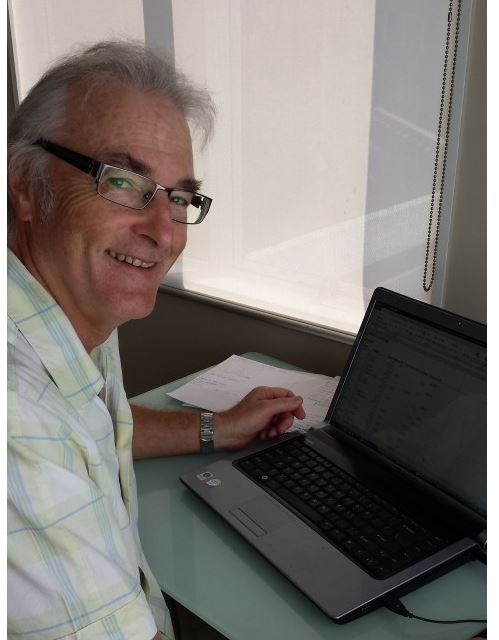 Pictured: TCOSS co-ordinator Andrew Lilburn
"In Taupo there's something like 80 different social service organisations. There's an awful lot of people working hard to help the community. We try to link those people together.
"Just knowing what other agencies are doing in town helps. People can be referred directly from one agency to another. Often people are dealing with multiple problems so there's a big cross-over of clientele."
Making A Collective Impact
TCOSS' new initiative, supported by BayTrust, is focused on achieving greater collaboration. Andrew hopes that one day, some social issues like literacy or family violence may be solved for good as a result of people working together.
In January 2015, the first in a series of TCOSS workshops was run by community consultant Barbara MacLennan to help make people consciously aware of how they can work with one another.
"A lot of us are communicating and sharing via our monthly network meetings but most of us aren't collaborating in an overt way. They're sharing a few things but not saying 'let's do a joint venture.'
"It's common sense really, it's a better way to work. Each organisation has its own resources, its own administration. Everyone's paying for the same things and there's an opportunity there for some collaboration and sharing of back room resources as well."
Talking To One Another
Andrew describes the workshops as "an exploratory conversation". Over 20 people attended the first one and were keen to see that conversation continue.
"It's going to be an ongoing process. People have to build up trust to work with each other and see how it's going to benefit their organisation and clients.
"There's not always an obvious link between these groups – for example, literacy and drug and alcohol services. So we need to explore what's the best place to put our energy as a community. We're yet to decide where that place is."
Problem Solving Dream
Andrew's ultimate vision is to help Taupo's different social agencies work together so well that the problems disappear for good.
"Instead of managing those social issues, we actually deal with them so the problem is solved. That's a big ask but I think it's possible to do something.
"It's early days but the potential benefit for the community is huge."
Andrew, who is a former Thames-Coromandel District councillor, says the support from BayTrust has been invaluable.
"It's really useful and their help is not just financial. They can bring a lot of other resources to bear and have lots of networks around the place. It's a really great partnership."
---
Creating A Happier Home For Bay Men and Their Families
16 FEBRUARY 2015
Mount Maunganui's Dave Halligan once asked a friend at Women's Refuge a simple question: 'what happens to the men?'
The answer was 'nothing'.
When women and children flee from violence or abuse in their homes, no-one was counselling the men or trying to find out what was going wrong in their lives.
So in 2010 Dave established Parenting For Men – an organisation dedicated to helping men of all ages resolve issues and problems in their lives so they can become better dads, partners and husbands.
"Men need more support in lots of areas. Our vision is that parenting is one of the pillars to achieving positive life outcomes. So if we can focus on the parenting skills of men, we can start to make progress in other areas like family violence, relationships and poverty."
Dave Halligan, Parenting For Men
Help in the home
Dave receives referrals from a number of different agencies and has worked with around 60 men and their families over the past year. He visits clients in their homes as often as needed, and is available by phone or text message to offer support at any time of day. Some need intense engagement, and others less so.
"A calm, safe whanau environment is what it's all about. The home is where the change has to happen so partnering with families in their home is a really important facet of what we do," Dave explains. "My very first priority is to create a positive atmosphere. Once you've got the right environment you can move forward."
A listening ear
Dave spends hours talking and listening with each man and their wider family, to help them problem solve, improve their parenting and communication skills, set goals and improve conflict resolution skills.
"Often it doesn't take long to get to the heart of things. Most of the guys I work with haven't had an adult male to talk to about these sorts of issues, so once we start it all comes pouring out. They just need to have their story heard. As men, we are notorious internalisers."
Dave says his clients come from all walks of life and socio-economic backgrounds, and often have many issues coming at them from all angles – finances, relationships, employment, substance abuse, as well as parenting pressures.
Often, their overall life skills need attention first. By separating out each area and forming a plan to tackle problems head on, their lives become a lot more manageable. Dave also works closely with the men's partners to help the couple become a more effective parenting unit.
"I'm almost like being an interpreter – translating man language to woman language and back again. If the couple can start to be constructive together and realise they're on the same team, it makes a big difference."
Building a network
This year BayTrust has given $15,000 to Parenting For Men to help Dave continue his work in the Western Bay of Plenty community. He plans to expand the organisation so other men can get involved as facilitators.
"We don't spend money on anything other than our time with the families we're trying to help and a little bit of petrol to get there.
"We want to be under the radar rather than have a huge public profile. We just want to get in there and do the work."
Long-term change
Dave says although the issues can be complex, he's always looking for simple ways to get big results.
The positive feedback he gets from individual families means he knows he's on the right track.
"I've been working with one young couple in their early 20s who have a 1 year-old baby and another on the way. When I sat down with the guy he said to me 'why haven't other agencies asked me about this stuff before?' He just needed to get his views and issues listened to, which then helped him feel part of the solution.
"And when I saw his partner recently she said 'since you turned up he's been much calmer and more considerate. It has changed the atmosphere and we are both more positive.'" And this is a common outcome.
"A peaceful and calm household. That's the sort of result we're looking for. That alone has a big impact on the outcomes for both adults and the children. Then we can get to work on their skill sets."
---
Hearing Dogs Trained To Keep An Ear Out For Their Owners
2 FEBRUARY 2015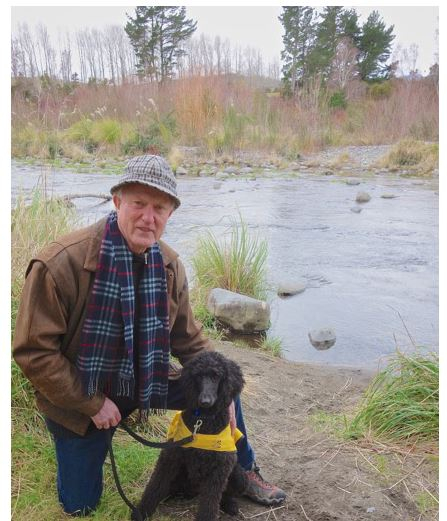 Tasha, a 3-year-old black standard poodle, knows exactly what to do if she hears a knock at her front door in Turangi.
The specially trained hearing dog will immediately find her owner, Ken Proudfoot, who is profoundly deaf, and gently put her paws up on his lap. She'll then lead him downstairs to the source of the noise.
Hearing dog Tasha, and her owner, Ken Proudfoot
Tasha has lived with Ken and his wife, Mieke, who is also deaf in one ear, for the past 18 months and has made a big difference to their quality of life.
"At the end of the day you can't wear hearing aids all the time," Ken explains. "I can't sleep with them in, or shower with them, and you need to take them out every now and again so natural air can circulate.
"A hearing dog can alert you to sounds you might not otherwise hear, such as a fire alarm, the telephone, a door bell or even a cooking timer."
Prior to Tasha, Ken had another hearing dog, Gemma, who used to accompany him to meetings, restaurants and hotels when he had to travel. Ken says both dogs have been reassuring companions, particularly in situations when he is on his own.
Making life easier
Tasha is one of 57 fully qualified hearing dogs working in New Zealand at present, with several more currently in training. Six of those dogs are working in different locations around the Bay of Plenty.
The organisation which trains them, Hearing Dogs For Deaf People NZ, is a charitable trust that has operated nationwide for the past 16 years.
Funding manager Jacqui Cameron says hearing impairment or deafness is an 'invisible' disability that affects one in 10 New Zealanders.
She says people can often feel isolated, lonely and frustrated. A hearing dog not only helps make their everyday lives easier, but it also gives them greater independence, social interaction, self-confidence and security.
"Even the simplest of tasks, like answering the front door or the telephone, are taken away from you when you have a hearing impairment," Jacqui says.
"Smoke alarms are a big one. We teach the dogs to lie flat as a pancake on the ground in front of the recipient. They then know it's an emergency and need to get outside."
Intensive training
Hearing dogs are trained at a special facility in New Plymouth. Many are rescued from the SPCA as pups, or donated by dog breeders around the country.
"We can't have dogs that are nervous or overly aggressive," Jacqui says. "That won't work. So they're fully socialized and then assessed before they enter our training programme. We choose very well behaved dogs who follow instructions well."
Each dog costs approximately $30,000 to train. They are then assessed after one year of placement before they're deemed to be fully qualified, and Hearing Dogs continues to monitor their progress every year to make sure they're working effectively.
"These dogs can go anywhere. They go to the supermarket, libraries, to workplaces, to university. They can even fly on airplanes," Jacqui says.
Crucial support
BayTrust donated $5000 to Hearing Dogs this year to help with local operational costs – money which Jacqui says has been put to excellent use. "We have had one new dog placed recently in the Bay of Plenty, and that money has gone towards their costs, as well as to help fund our support programme and annual assessments in the region."
The support programme comprises a team of dog trainers who are available by phone 24/7 to help recipients if they have any problems or concerns.
Dog trainers also spend at least one week with each recipient when the dog first arrives in their home to help settle them in and familiarise themselves with their new neighbourhood.
"It makes a big difference to their lives but it's actually a massive thing to take a hearing dog into their home. We try to give both them, and the dog, as much support as possible."
Jacqui aims to help fundraise $260,000 every year to keep Hearing Dogs up and running. "We like to try and train around 10 dogs a year. But we'd love to increase that if we could."
---
Ensuring The Power Stays On For Turangi Patients
27 JANUARY 2015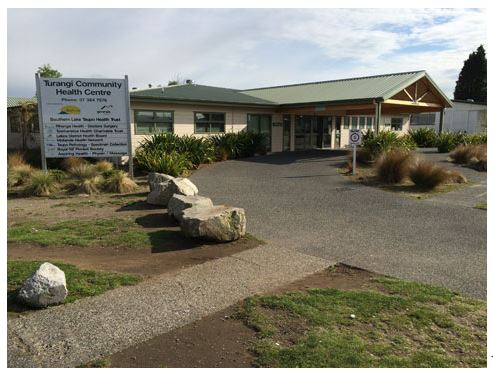 If a civil emergency were to strike the central North Island, staff at Turangi's Community Health Centre would be right on the front line.
The Turangi Community Health Centre
Volcanic eruptions from nearby Mt Ruapehu, lahars, earthquakes or other natural disasters could occur at any time and medical staff know they need to be ready.
That's why the Southern Lake Taupo Health Trust (which runs the centre) has been working hard to raise $50,000 to install an emergency diesel generator on site.
Trust spokeswoman Raewyn Judd says discussions last year with Taupo District Council about the health centre's potential role in a civil emergency highlighted how important it was to have an alternative power source.
"We realised if anything did happen and our health services were needed full time, we didn't have an emergency generator so couldn't ensure the safety of patients and procedures being carried out at that time, or supply essential medical support services if a disaster did strike."
Raewyn says power outages also frequently occur throughout the year as the old lines struggle to supply the health clinic with its day-to-day electricity needs.
Christmas gift
Just prior to Christmas 2014, BayTrust approved $25,000 to the health trust towards the generator project. The money, combined with other fundraising efforts, has allowed the trust to order the generator from the United States.
"It was such great news," Raewyn says. "We were delighted that we can go ahead and get it. A Taupo company will be installing it for us and we anticipate delivery in about 12 weeks' time."
Raewyn says a sound-proof shed will now be built to house the emergency generator beside the health clinic. The acoustic design will ensure the noise level required by council consent will not exceed 45 decibels.
Turangi's lines company (The Lines Company Ltd) has also agreed to donate $3000 towards the generator and, more importantly, a five year maintenance contract in recognition of how important it is to ensure a consistent electricity supply at the health centre. Genesis Energy and local Turangi businesses have also made significant contributions.
On-going support
BayTrust has been a long-time supporter of Turangi's health centre since before it opened its doors in 2008.
It granted $200,000 towards constructing the $1.8m building, which houses a full range of medical services for the people of Turangi.
"For more than 20 years there has been a vision of a 'one stop health shop' in this town and region," Raewyn explains. "Local medical clinics always had difficulty attracting doctors long-term to come to the area. We had locums on and off but we needed to consolidate our health services in the area to make it more attractive."
Experts on hand
The 900sq m health centre is now home to Pihanga Health (GP clinic), Tuwharetoa Health Services, Midlands Health, a Pathology Laboratory (blood service), Plunket, Lakes District Health Board, and a physiotherapist, as well as casual health service providers such as drug and alcohol counsellors, podiatrists, and audiology staff.
"We have a wonderful medical centre here now. It means people don't have to drive to Taupo for health services. It saves a lot of travel and stress for people – especially the elderly," she says.
"BayTrust have supported us throughout our journey. They are a major sponsor and we're very thankful to them."